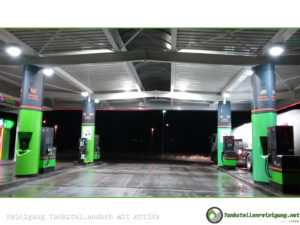 Cleaning the petrol station roof falls within your petrol station's maintenance as well. The fuel pump cover protects your customers from the weather while refuelling. However, your petrol station roof is exposed to all weather conditions - 365 days a year in sun, rain, wind and dirt from the environment.
Contaminants damage its appearance and material
Over time, various contaminants of different origins settle on the surfaces. Road dirt, fuel and oil vapours, as well as dirt particles from nature and agriculture turn the petrol station roofs grey. Without regular cleaning, this not only leads to a very unsightly appearance, which damages the general overall impression of your petrol station, but also ensures long-term discoloration and possibly damage.
Full cleaning of your station roof
We clean your fuel pump roof from top to bottom. Starting at the roof base and fascia (roof border with brand logo), over the cross beams and roof supports, up to skylights and the roof top including inventory audit. Upon request, we will also repair any damage that has been discovered, such as the removal of rust stains and repainting of metal parts.
We always use modern work platforms and risers. Of course, the work areas are closed off to avoid accidents for your customers.
Our services are available as a thorough cleaning or as fixed interval cleaning with a corresponding cleaning plan - without obligation and without any contract.
Portfolio (Examples)