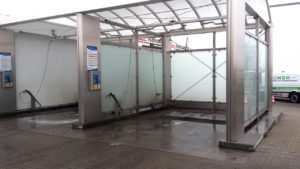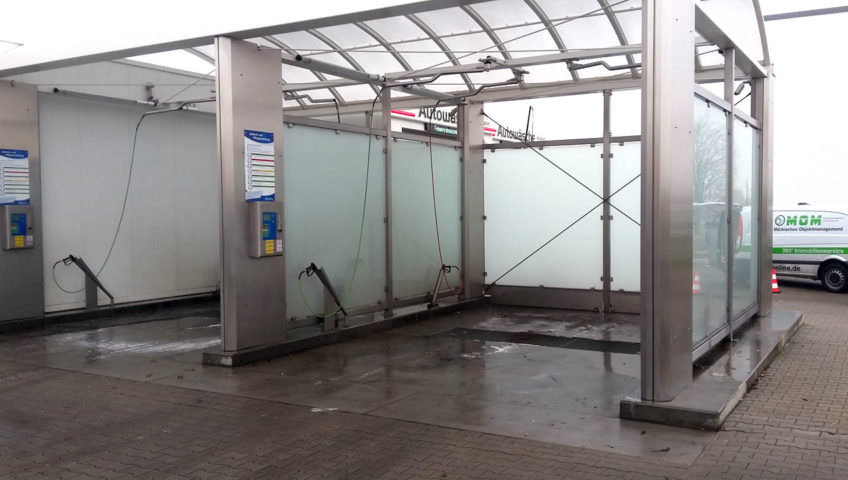 Your self-service car wash facilities are used often, which of course leaves traces. Every manual car wash leaves deposits on the floor and the partition walls. Over time, the traces become visible and the concrete changes colour. The sediment deposit leads to moss formation, which is a risk for any car driver getting out of the car in the self-service car wash as they could slip on the ground and fall.
Our offer: we clean your self-service car washes professionally and by natural means! We'll impress you with our passion and fair terms, letting you put pure cleanliness on the agenda and provide a welcoming, shiny, guaranteed non-slip car wash.
Every car wash leaves traces in the self-service car wash!
We know you can't make an omelette without breaking some eggs... but where cars are being cleaned, the remaining dirt on the self-service facility's floor and on the partition walls should not be underestimated. We can concentrate on the concrete floor, for example. We also undertake the professional cleaning of partition walls, regardless of whether they are made of stainless steel, plastic, glass or painted metal. Since we have the right cleaning agent for every material, we offer you maximum cleanliness without damaging any surfaces.
The regular professional cleaning of your car-wash facility is worthwhile and prevents the floor darkening, which in the course of time is not only ugly, but also extremely dangerous for any user. As the self-service car wash operator, you bear full responsibility for any accident on a slippery surface. You cannot shirk this, but you can avoid the problem of a fall on slippery ground thanks to our self-service car wash facility cleaning.
After every car wash, dirt remains underneath the vehicle and becomes a layer of sediment that becomes completely slippery when in contact with water. The visual aspect is therefore only one reason for the professional interval cleaning, as the safe floor area should be the main focus. Drivers come to you as they want to clean their vehicle and get rid of the dirt. Part of the dirt gets into the car-wash facility's partition walls, mixes with the cold water and becomes a solid sediment layer.
With our service, your self-service car wash will shine like new, welcoming customers in for car cleaning. We use only environmentally friendly and non-toxic cleaners, effective limescale removers, and cleaning agents that are matched to the substrate and therefore ideally suited for the cleanliness of all surfaces. Trust our team and opt for clean car-wash facilities. We leave nothing behind but pure shine and cleanliness! We are the cleaning team that make your self-service car washes shine in a new light.