Professional petrol station and industrial cleaning in North Rhine-Westphalia and across Germany. Equipment and machine cleaning as thorough or interval cleaning.
Our petrol station service for you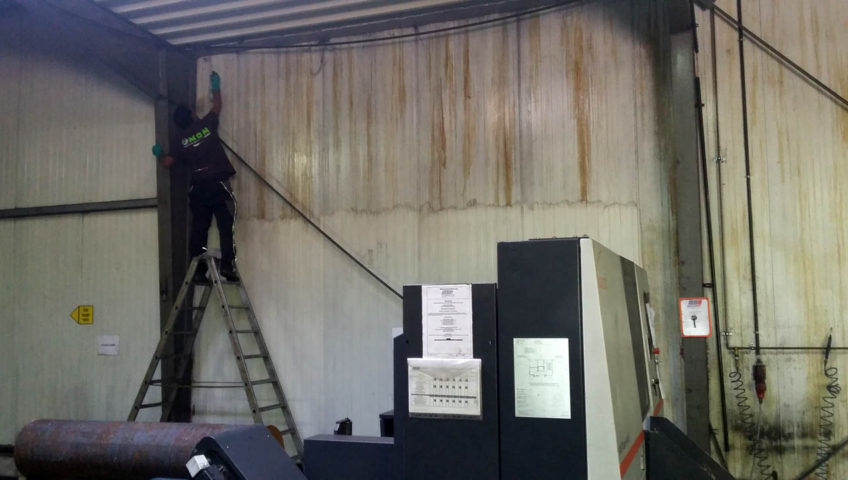 A clean petrol station impresses customers and quickly leads to motorists who live or work in your catchment area preferring your station and visiting more frequently. We can support you in this and offer petrol station cleaning as a comprehensive petrol station service. You can commission us with cleaning all facilities, so
car-wash facilities
car-wash systems
tunnel car washes
self-service car washes
fuel pumps
fuel platforms
roofs, façades and glass elements
can be cleaned by a single provider. If you are directly based in North Rhein-Westphalia, we can also accept your order for individual services. You can order both one-off and interval petrol station cleaning and opt for an environmentally friendly and passionate cleaning with our petrol station service.
We are available for you nationwide and perform the petrol station cleaning as a longer-term project. Our team can be on the spot across an extensive area to provide a sparkling clean petrol station in the time agreed with you in advance. Once we have convinced you with our offer and performed an environmentally friendly special cleaning of your petrol station with all accessories, you will always book us again and recommend us to other leaseholders.
Our goal is your clean petrol station, which we thoroughly rid of contaminants such as residues to make it clean, welcoming and safe again. Get your personal offer and be persuaded by petrol station cleaning from a service that makes your workplace your customers' goal.
Offers for industrial and machine cleaning
Machines and industrial rooms, production halls and floors as well as the air ducts in your premises get dirty in everyday use. Our offer refers to a full-service plan for equipment and machine cleaning, as well as the comprehensive industrial cleaning including halls and warehouses. You can book the industrial cleaning as a single service and thus the annual or half-yearly cleaning of the warehouses and production halls including
tools, containers, industrial trucks
walls / façades
ceilings, cross beams and supports
glass surfaces, windows & skylights
floors
cable and ventilation ducts.
Alternatively and on behalf of the customer, we combine the industrial cleaning in your company directly with a machine cleaning, in which we include all equipment and machines. Take advantage of our thorough industrial cleaning offer or choose a regular maintenance plan that will increase your company's cleanliness and ensure longer, unrestricted machine functionality. We carry out the industrial cleaning flexibly and can take advantage of production breaks, clean on Sundays and public holidays, or clean in the late shift, and thus avoid production stops and longer breaks. Our goal is to impress you with a top service and to offer industrial cleaning and machine cleaning on fair terms.
For example, if you move with your machinery, we take over the complete thorough cleaning of all machines and equipment parts before their transport, so that you start at the new location with clean equipment. Likewise, the cleaning of the previous industrial warehouse is part of our service, so that it can be transferred to the new tenant or buyer in perfect condition.
Information on cleaning agents for industrial and machine as well as petrol station cleaning
Our team uses only high-quality special cleaners that are matched to the respective substrate and are environmentally friendly. You do not have to worry about the groundwater being affected or poisoned by petrol station cleaning or industrial cleaning. Because we believe in using only biological natural detergents when providing cleanliness and hygiene for your company. Even with stubborn dirt, we do not necessarily rely on harmful chemicals and therefore offer you a service that protects surfaces and the environment. Book our comprehensive petrol station service or industrial cleaning, where you can have the machine cleaning by professionals and ensure cleanliness throughout the hall. Whether it's a petrol station or tunnel car wash, production hall or warehouse, with our team you can achieve cleanliness on a new level and rely on dependable staff, quality service, punctuality and on-time completion of our work.
We would be delighted to present you with a clean concept and to inspire you with an individually selectable service. In North Rhine-Westphalia and throughout Germany, our team is your point of contact if you want professional cleaning so you can concentrate on your core business. We will gladly make you a personal offer and present you our services, which we will tailor to your needs and complete on time on your behalf.
One-off or regular? You decide our level of employment!
Both for the petrol station service as well as for the industrial cleaning and machine cleaning you can book our team once or in constant service. Once you have been convinced by our services, you'll be happy to access the offer for interval-based thorough and maintenance cleaning. Your machines will thank you for their regular cleaning and the industrial warehouse will also have a more pleasant atmosphere when it is clean and free of grease, oils or greasy deposits on floors and walls.
Professional petrol station cleaning, industrial cleaning and machine cleaning give a lasting reduction in the risk of accidents. With us you get an environmentally-friendly and hygienic clean so you can concentrate on your own needs at the same time. With professional cleaning of machines, petrol stations and industrial warehouses, you can avoid unnecessary operation stops and simply order us at the desired time.